First & Second Year Students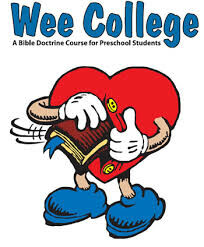 Wee College is a bible based play-learning program geared to children four and five years old. The program runs every Tuesday from late September to the end of April.  
There is a morning class and an afternoon class for first and second year Wee College students. Classes are held in the basement of the Fort Alliance Church (9935 - 93 Ave, Fort Saskatchewan, AB).
Morning classes are from 9:30 am to 11:30 am and afternoon classes are from 12:30 pm to 2:30 pm.
Third year students meet Monday evenings from 6:00 - 7:30 at Life Church (10490 98 Ave #633, Fort Saskatchewan)
Cost is $100 per year - 22 weeks of classes (run by qualified & loving volunteers). Payment is due at the time of registration. Please fill out this Wee College Application form to register.
Please click here for Wee College brochure and more information.
This program is under the direction of the Christian Education Association of Alberta (CHREDA) and is affiliated with Fort Saskatchewan Christian School.